R3.0 Plan for November 2009
During October
R3 Project Plan, the task list, was revised, updated, and reformatted.
Ten new alpha releases, with dozens of fixes and improvements. Although we didn't hit our 80-ticket goal, we did reach the milestone of closing more than 1000 tickets. The CureCode tracker progress chart looks like this as of the first week of November: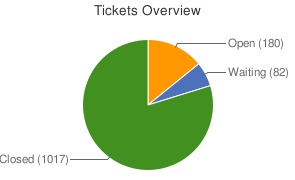 More improvements and fixes were made to the parse function, basically wrapping up its primary enhancements for 3.0. Read the R3 Change Log for specific details.
Unicode format detection added to READ/string, including UTF-16 decoding.
Serious revisions to standard I/O handling. Note that I/O redirection is now functioning, so we posted an example CGI script on rebol.net for testing.
Began pulling together marketing ideas, including many user suggestions. The goal being to build a better marketing plan, which also will be reflected on our website. I'd like to thank those of you who contributed marketing ideas. A lot to think about there.
Opened REBOL Consulting again to provide commercial development and support services.
Goals for November
It's a busy month, so we're keeping the list simple:
Personally, I'd like the marketing plan to be settled, with the start of website changes to reflect it.
Release the Host environment, including source code and makefiles to key developers for testing and review.
Check-off more tasks from the Project Plan.