Dale Got Married - Amiga Design Team Photo 2007
Dale Luck, my old friend and Amiga computer collaborator got married last week, and Dale and Rosemarie have headed out to Kauai for the honeymoon (not to be heard from since.) We all wish them the very best in the years ahead.
This is the first time in a long time that most of the original Commodore Amiga computer design team has been together in one place, so it was worth recording it in a photographic moment: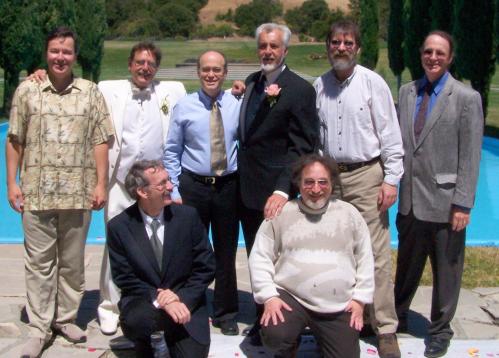 Original Amiga Design Team - "Reunion", June 2007
Wow. With all that talent in one place, what should we build next?
From left to right, front row:
Glenn Keller - HW: Paula chip
Dave Needle - HW: Agnus chip, system boards
Back row:
Carl Sassenrath - SW: Exec kernel
Dale Luck - SW: Graphics (and here, groom)
Sam Dicker - SW: Sound
RJ Mical - SW: Intuition (GUI)
Bob Burns - SW: Printers & input devices
Hedley Davis - HW: "Representing" Commodore
The above photo is public domain, and you are free to use or publish it accordingly. Here is a higher resolution copy: Amiga Team 2007. (Thanks Caryn and Glenn!)
And, to be complete...
It is common to find historic accounts of the Amiga Computer that are not complete. To avoid that happening here, I should mention the other members of the team that had important roles in the design, but are not pictured above:
Jay Miner - HW: Team leader, Agnus chip (deceased)
David Dean - HW: Denise chip
Bob Pariseau - SW: Team leader
Neil Katin - SW: Devices
Jim Mackraz - SW: Graphics, devices
Bart Whitebook - SW: Graphics
(Of course, this list is just the engineering team, and there were many others who helped make Amiga possible.)
The location
The location of the photo is the Pulgas Water Temple, the source entry point of water for San Francisco and surrounding areas. To quote the website:
San Francisco built Pulgas Water Temple as a monument to the engineering marvel that brought Hetch Hetchy water more than 160 miles (258 KM) across California from the Sierra Nevada Mountains to the Bay Area. The Hetch Hetchy Project had taken 24 years to build through the Great Depression at a cost of $102 million.