REBOL DevCon 2007 Review and Appreciation
The 2007 REBOL DevCon (developer conference) was held May 10th and 11th at the Laboratoire Cognitions Humaine et Artificielle (Laboratory of Human and Artificial Cognition) at the École Pratique des Hautes Études (high studies), part of the University of Paris (Sorbonne) and located downtown at the center of Paris. It was a great location -- walking distance to sights such as the Louvre Museum, Notre Dame basilica, and so much more.
The conference turned out excellent, including the special group lunches and dinners. And, yes, the French food was wonderful, as you would expect in Paris.
I would like to thank François Jouen, the head conference organizer, and the rest of the conference team and sponsors for their hard work to make the conference possible this year. I also appreciate the time and effort made by Christophe Coussement to run the conference web site. The conference was also streamed to hundreds of REBOLers who were not able to attend in-person. I very much would like to thank Pierre Sahores of Sahores Conseil for sponsoring and running the video feed of the entire conference.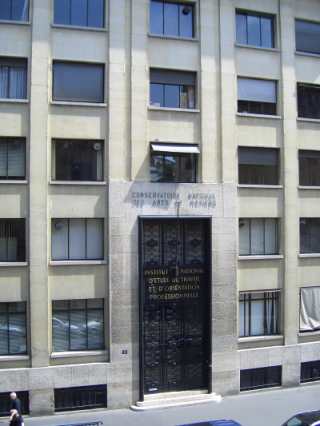 Laboratoire Cognitions Humaine et Artificielle
A number of speakers covered topics from REBOL 3.0 (three sessions), uses of REBOL, cool new tools and sites, and even a program to help learn Mandarin Chinese. In addition, Ron Everett, from Relavance Technologies presented a very special session about the use of associative memory technology in database design.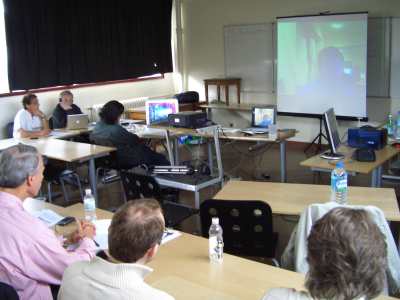 The sessions...
The above photo shows the remote presentation by Baron R. K. Von Wolfsheild from Los Angeles, and we thank him for staying awake so very late to make that possible (9 hour time difference).
I must comment that I really enjoyed the sessions presented by Maxim Olivier-Adlhoch this year. His GLayout, Liquid, LiquidGL, and other advanced software engineering tools may be perfectly timed with the need for a new REBOL 3 GUI system (although, it is still early, and no final decision has been made).
After the conference, a large part of the group stuck around for many hours of discussions about REBOL, most specifically 3.0 design issues, and most importantly, a brainstorm about how best to approach the new GUI for 3.0. It was quite interesting, mixing both the pragmatic necessity with the desire for substantial advances. I think good things will come as a result of the discussion.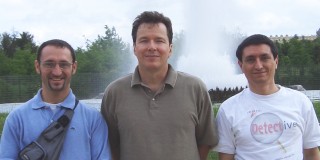 Luca, me, and Gabriele
A few of us continued to tour around the Paris area. The photos above (Luca, me, Gabriele) and below are from the Palace of Versailles. The day we visited, they turned on all the fountains, as they rarely do, in celebration of the historic REBOL conference... at least, I think that was the reason, wasn't it?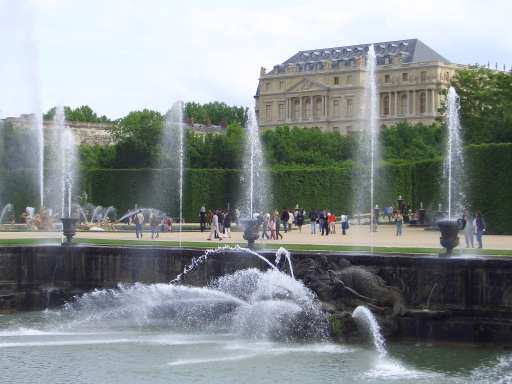 Versailles fountains
Later, I had the chance to visit many of the great masters at their home in Musée d'Orsay...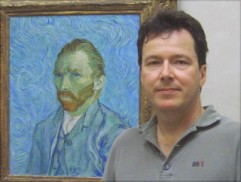 Van Gogh and visitor
As I reflected on those few who changed art during the impressionistic era, I realized that it is a common human trend for new ideas to be widely misunderstood during their early years. I understand quite well the environment those pioneers had to endure. (But, don't be concerned. I want to keep both my ears.)