Comments on: Tribute to Fred Burns, old Friend, Comedian
I don't normally publish close personal notes on this blog, but this one is indeed special...
An old friend of mine, Frederick Burns passed away recently. Fred and I were close friends for many years, but I'd have to be hypnotized by a professional to retrieve all the memories that my mind has blocked to maintain my sanity.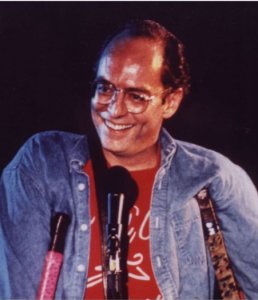 Fred Burns, Comedian, on stage
Yes, there are many stories about Fred in his professional career as a talented comedian and 12 year manager of famed The Comedy Store, where so many famous comics got their start. But, long before that, in our younger years, Fred and I made movies together...
Galleria de la Noche - 1971 spoof of The Night Gallery with Ron Ward as Rod Sterling (see note below)
Leadbottom - 1972, 47 minute parody of the popular NBC show Ironsides with Fred Burns playing the part of Leadbottom (for Robert Ironside by Raymond Burr) in the wheelchair. It ends with Fred's wheelchair going out-of-control at the Eureka dock and plummeting into Humboldt Bay, sinking to the bottom with Fred in it, because after all, he is Leadbottom.
The 600 Dollar Man - 1974, 55 minute parody of the ABC hit series 6 Million Dollar Man with George Gentry as Heeve Houston (for Steve Austin played by Lee Majors) and Fred Burns as the evil-genius doctor.
We "spared no effect" for this last film, with one scene requiring three separate cameras filming a bicycle (ridden by Houston) that goes out of control and bursts into flames as it flies off a 100 foot cliff. Then, true to the TV show, we fade up on an operating room scene with music intro and a voice-over with Fred's parody script in my very best ABC announcer's voice:
"Heeve Houston. A man barely alive. We can rebuild him. We can make him better than he was before. (video: bionic arm falls off) Well, almost better."
The movie also included a high speed car chase, stop action "kung fu" fistfight, and eventually the canoe boat demise of the villain who meets his end in Lake Benbow. I'll always remember Fred's line as he enters the boat while fleeing Houston but stops first to put on a life jacket: "There's fun in the water, but there's safety too..." And, of course, who can forget the 40 gallon vat of Jello scene (used to bind the feet of Houston). I never thought we'd get that scene filmed, because I never thought Fred could really make that much lime Jello.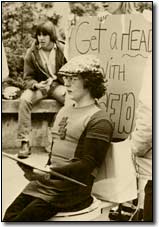 "Get aHead with Fred"
His 1974 campaign to be elected
at Eureka high school,
dressed as a female cheerleader,
parading around on a "head".
I first met Fred in 8th grade Spanish class when the teacher asked if anyone wanted to make a Spanish film for extra credit. Fred, Ron Ward, and myself figured it might be fun, and that was just the beginning. Fred was an amazing writer, comic, actor. I was the filmmaker, photographer, editor. After Galleria we went on to make the two other films, spending hundreds of hours and hundreds of dollars on each one (a lot for those days). Those films were our passion.
We called ourselves "BS Productions" (Burns and Sassenrath) and our films were entertaining, funny, and professional for the day. We spent every dime we had making those films, and to help fund them, Fred would show them at lunch for a small charge at the Eureka courthouse. We always got great reviews.
In 1974 I somehow convinced the local TV station (KVIQ, where I worked as a technical director), to let us co-produce a weekly half-hour series called EHS Newscene. It was supposed to be a serious news show for the teenage audience, but for Fred, it became more like Saturday Night Live. There was one show where Fred ambushed Rick Slack (EHS class president) during an on-camera interview. Fred had collected odd words that sounded bad, like "formicate" (the sensation of ants on your skin) and he asked Rick during the interview if he liked to "matriculate" (which actually means to be admitted to college). Those were crazy days, and I still have nightmares about those productions... like the time the script wasn't finished at air time, or when I punched the wrong button and accidentally broadcast 10 minutes of a rehearsal live over-the-air. Fred thought that goof was hilarious. I thought I'd lose my job.
Fred moved on to a professional career as a comedian, with hundreds of live performances worldwide. He became the manager at The Comedy Store for more than a decade, and if you're into live standup comedy, that's the place to be. Fred also played parts in a few movies, including Fred, a documentary about his history, directed by Ron Ward. The film won international recognition and awards.
I last met up with Fred a few years ago in Eureka, and we planned out our next "big film". There was always magic in working with Fred on creative projects... an irreplaceable wit to the man, a special genius. You never knew what was coming next.
Fellow comedian Lamont Ferguson recently noted: "He was highly respected among his peers and a prime example of living life to the fullest in spite of his disability."
You see, Fred was born with a birth defect, spina bifida... and I know the effect it had, but if you dared to feel sorry for him, you'd get whacked by one of his crutches. For Fred I think the words from his script above, "We can make him better than he was before" had a deeper meaning.
Fred died May 11, 2007. Considering his unbounded personality and our movie endings, it is some kind of ironic fate that he passed away while at sea on a cruise ship named "Infinity".
This month (June), we'd both be celebrating our 50th year.
Fred will be dearly missed. I send my condolences to all of his family and friends. But, if he knew I was making all this fuss, I'd get whacked by one of his crutches.
-Carl
PS: Here is a googling of pages about Fred and his comedy act.
Comments:
Paul
5-Jun-2007 19:05:44
Very funny. Now you need to put those movies you made online.
Chaz
5-Jun-2007 21:43:52
Such a tribute to a fallen friend. Thanks for sharing him with us.
croquemitaine
6-Jun-2007 9:49:48
Picture coming from here ,i guess.

http://www.damonbrooks.com/fred_burns.htm

Carl Sassenrath
6-Jun-2007 11:50
Thanks. (And, I'll see if I can drum up a more recent photo of us together. Too many photos in the family archive!)
Madeleine
6-Jun-2007 21:53:23
Carl, First blog I ever responded to...and it would be yours. Very nice tribute to Fred, loved the descriptions of the movies. They take me back. Remember filming the Humboldt Bay dunking scene? Wasn't it George that went into the drink? There was nothing Fred couldn't talk OTHERS into doing.

Carl Sassenrath
6-Jun-2007 22:38:30
Hi Madeleine, that's so true. Yes, I think it was George, and maybe what got him the starring role in the next film.
Deborah
7-Jun-2007 17:19:43
Thanks for posting this. I wasn't in the Zane Spanish class, but I'll never forget Fred's stunts from high school Spanish: struggling through the words of "Guantanamera" just for laughs, and stealing and ransoming the teacher's red wooden seat.
Kim Clark
10-Jun-2007 18:51:16
Thanks for posting this. One more smile brought to my face by something Fred did. He was my dearest friend and he told me so many stories of his crazy younger days. I met Ron Ward last week and he has some hilarious stories and videos too. Fred WAS a comic genius and there is no one else in this world like him. I absolutely love the photo of him in the cheerleading outfit, classic Fred! Thanks again for the stories. Regards,Kim Clark
George
11-Jun-2007 13:16:34
Yeah, it was me in the bay. It was freakin' COLD! ("Remember, you gotta stay under for ten seconds")
Londa
14-Jun-2007 18:11:26
I'll always remember Fred not just for his funny side, but his truly sincere and supportive side when dealing with life's issues.
BRAD OLSON
17-Jul-2007 8:29:20
Great memories Carl,it got me thinking about one of my favorite Fred moments. We were walking down the hallway at EHS when Fred's crutches slipped out from under him just as an office girl was coming in the door. She rushed over and asked "are you alright" and he looked up and responded "yes but I don't think i'll ever be able to walk again" I'll never forget the look on her face as we cracked up.
Rick Hall
17-Jul-2007 11:45:23
Thanks for the nice tribute. You are so right about drawing out those old memories. I had completely forgotten the talent show and the Young Frankenstein ripoff. And yes, I was one of those Powderpuff cheerleaders, too. In fact I put the announcement in the morning announcements to meet with Rock Hunt after school (Fred dared me). If you don't get the joke say it a few times. I want to encourage anyone who wants to to sign the guest book at times-standard.com. It is now permanent. Thanks again, Carl. I feel fortunate to be his friend. To know Fred for even an hour was an honor, to be a co-conspiritor, priceless!
Kimberly McBride
14-Oct-2007 12:56:10
First thing that comes into mind is his entire set. I know it by heart. When I was working at the store, Fred told me, "if it weren't for the comedy clubs for these douche's to perform, they wouldn't be able to build enough loony bins to hold 'em." Did he ever say to ya'll, "Never did I think I'd have a job where I'd have to tell an employee to not jerk off in the bathroom before a show, do it in the alley, you're scaring the customers."
Helen Workman
14-Feb-2008 20:53:33
Hi Carl, I found this blog because I recently came across Fred's business card he gave me at the 30th reunion. I was very saddened to hear about Fred's "passing" (I hate that word but don't like death either because Fred will always be alive as far as I'm concerned). I think I still have the Daily Bark copies where we covered the story of the Spanish teacher's prized chair/stool being kidnapped and held for ransom. Wasn't the final headline "Remains of Stool Found" ? I believe I came up with that, but Madeleine might choose to disagree. Thanks fro writing this. - Helen
Martina von Meder
6-May-2009 22:12:47
I'm sad to read that Fred Burns died. Actual I had digitized a Report from the german TV and also a documentary film of the University of Southern California from 1988 about him. A strange twist of fate.

Martina.

btw. Carl, thanks for the wonderful AmigaOS

Nancy Spooner
11-May-2009 21:04:48
Did you also know Ron Clark? I am trying to get in touch with Fred's family and Ron's friends. I was Ron's good friend and former roommate. Ron past away last week and was found dead in his home today. We are waiting for Med Ex report. Looks like natural causes. My friend Melanie and I were two of his best friends (she went over to his house to see if he was OK since he was not returning our calls)- We do not know how to reach out to his comedy buddies or Fred's family. We know they were Ron's other family too. I can be reached at Nancy(at)nancyspooner.com and by cell 858-344-0696. Please send my any info you can. Thank you.
Mateo
26-Sep-2009 22:06:59
I worked with Fred in El Paso after Joey Medina took me out there to work for a week. We instantly became friends at the condo, he tolerated my drinking, and I tolerated his smoking.

I remember continuing to drink during the wee hours of 11 AM, and we got onto the subject of sex. Imagine that, comedians talking about chicks they rarely bang. He asked if I talked dirty to a girl in English or Spanish. I said, does it really matter...He said, "Mateo, you're bilingual, you can talk dirty in two languages."

I said, Fred, but you have toys to go with it...you can use em to your advantage when you talk dirty..."Who's crutch is this...who's fukking crutch is this?!"

The guy was a great friend and I ran into him a few times in L.A. With comedy as cutthroat as it is, so many comedians look at other comics as "competition".

Not Fred. There was one reason I wanted to do comedy, to make strangers laugh. I had second thoughts throughout the 8 or so years, but Fred was a guy who kept encouraging and looked at everyone as a friend. He sort of took me under his wing,and I took him around El Paso, and I think Ciudad Juarez. This is the first time I found out about his death.

He will be sadly missed. (We still had those rowdy nights at The Comic Strip, Military Night)

Que descanse en paz, Freddy.

Mateo Leon Villagomez

'MATEO'

Jennifer Burns
9-Jul-2010 2:04:48
hi, I'm Fred's niece, and his older brother's daughter. It was absolutely touching to see how many people still care about Fred. I know my father misses both Fred, and Ron terribly, and would probably love to hear some stories anyone has to share.

Love and miss them both

Jenny

Pat H.
3-Aug-2010 21:58:13
I just returned from the 35th reunion of our graduating class. The memorial video to Fred was very good and I tried to remain cool but it didn't work very well. I shed a tear for him again as I did when I first heard of his passing. I was in the 600 dollar man, with my brother Mike, as one of the henchmen that George kicked but on. It's my only movie appearance and I'm glad it was in such a classic film. Carl, find those films!
Hara
8-Nov-2010 20:45:42
my dad and Fred's dad worked together the last few years of the 70's. Fred babysat for my brothers and i...he taught us to play poker at ages 10, 8 & 7...so much for BABYsitting :) we delighted in stealing his crutches only to have him totally take us down to retrieve them! we loved when mom & dad left us with him, and we loved him...
Joey C
26-Jul-2011 23:07:20
I just did a search for Fred on Google and found out he had passed away back in May 2007. We were friends for years and the last time I saw him was around summer of 2006. He lived around the corner from me. I'm very-very sad right now. I had no clue about this and I wasn't notified about it. Anyhow, Fred was a very sweet guy and my memories of him are of his stick-to-a-tive-ness and great sense of humor about life when others would be crying if they had to go through what he did. A late good-bye my old friend :) JC
Brian
24-Aug-2011 7:02:41
Find car auctions in your area and get a car bargain for 90% off its market value at repossessed, seized, surplus and government car auctions Find car auctions in your area
Elizabeth Brown
24-Aug-2011 7:03:20
Reviews of the best ways to sell unwanted gift cards
Android developer
14-Oct-2011 4:10:36
I very much to like and agree with your point of view. ,I was just imagine about it and you provided me the correct information I really bookmark it,for further reading,So thanks for sharing the information. This post is different from what I read on most blog. And it have so many valuable things to learn..

Android developer

Namaste
17-Apr-2012 11:16:13
Nice post, good to know that this Fred Burns topic is being covered also in this web site. Thanks for taking time to discuss this, keep up with this interesting work. Good job ! arginina
alex
19-Jun-2012 4:43:57
i like the blog information article was really good to watch it. Professional essay writing company Essay experts
blackmen
4-Jul-2012 23:34
After reviewing the features of this light weight baby jogger, it's easy to see why many people love the Britax Baby Strollers. It is a stroller that will last may years and has been built with active families in mind. With features providing convenience, strength and durability, as well as comfort and safety for your baby, it is certainly a reasonable contender.
Dias Gomes
9-Jul-2012 18:49:01
Guarda Móveis
daniel dias
9-Jul-2012 18:49:35
Farmacia de Manipulação
styne
9-Jul-2012 23:33:10
Nice post. Custom logo design || Buy logo design
cherrin
11-Jul-2012 22:26:12
The White page and the yellow page is where one can see MQ888 number of a certain person. The phone number can be retrieved if the person's name and address are known. However, if the name is unknown but the phone number is identified one can do a Reverse Phone Lookup to identify the owner of that number. Reverse phone number lookup is usually the action done by those who have received a disconnected call from an unknown number and the person on the other end failed to leave a message before hanging up. The person who received the call is curious about the identity of the person who called them. One would feel suspicious and uneasy about that unknown call.By doing a call reverse lookup, one can feel at ease about the identity of the unknown number who called them. By searching for the owner of the number, one can also protect the family especially the children from potential harm from strangers that they meet through an online media website.


A lot of information can be seen on the result of F9800A number lookup. Information such as the name of the person with which the number is registered can be revealed. The location where the number was registered is also indicated on the result. Other relevant information about the owner of the number is also indicated on the result such as other registered phone numbers of the owner and relatives and the people whom the person is living with. Conducting the search surprises many since the results would reveal that the person who called is just their relatives, neighbors or long lost friends. Not all network carriers would publicly display the information about the subscribers. There are a lot of websites that offer to lookup the information about the owner of the phone number. One has to go to a specific website and input the phone number and within seconds the state where the phone number was registered will be displayed. Unfortunately, in order to view the full details about the owner of the number, one has to pay for the service.


Some websites offer a one-time search and an unlimited search for a whole year. There are even websites that guarantees to find the information associated with the number even if they have to do the search manually. Phone number lookup is also known as call reverse. It has its Gemei S5000 own limitations that people tend to misunderstand. Many have thought that by doing a call reverse, one can get the call and text logs of the phone number. There are some who would ask for the physical location of the device which is already beyond the support of the phone number lookup since it is one of the features of smartphones.

grace
29-May-2014 10:26:37
hey! have you gotten your documentary abt him available yet? i would love to see it
Tanya Smart
15-Jul-2015 17:23:41
Carl, I just came across this -- and you've brought back so many wonderful memories. I so remember your films and the true belly laughs they gave me. The amazing thing was that we really didn't consider it anything extraordinary that you and Fred made these - your talent was our "normal" experience. I remember him being grabbed at the bottom of the stairs by two guys to be ferried to the top (or vice versa) with him exclaiming orders or something rude to them the entire way. Fred was a great friend to a too tall, too awkward, too geeky female. I do feel sort of neglected that he never threatened to whack me with a crutch...
Post a Comment:
You can post a comment here. Keep it on-topic.